Who has time to cook?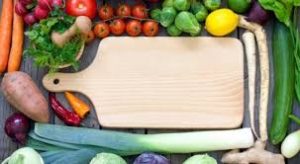 You can eat well for less with simple cooking techniques.
Processed food companies tell us that it's hard to cook, takes too much time and expensive.
"You deserve a break today".  Give me a break.  This is a myth.
Check out the website, https://www.ewg.org/goodfood/
Here are a few quick tips.
Breakfast:
Smoothie half cup of fruit, cup of vegetables, protein powder.  Or a green                             powder, ground flax     seeds.  Water, almond milk, rice milk or 100% vegetable                   juice, unsweetened and ice
2 hard-boiled eggs, fruit
Greek yogurt with fruit
Snacks:
Prepare in advance
unsalted whole almonds or walnuts
raw cut up vegetables
whole rye bread with almond butter
Lunch:
Greens, cut up whole vegetables, fruit, walnuts, olive oil, tuna, sardines or chicken              breast balsamic vinegar. Use leftovers from dinner.
Dinner:
You can make a healthy whole food dinner in 20 minutes or less. Quicker than                   ordering fast food in picking it up. The key is to plan ahead. If you don't like to cut up           vegetables, try buying the prewashed assorted cut vegetables or frozen. Stock up               on spices and herbs that you like.
Here is a link to download  a free 20 minute dinner recipe cookbook
http://www.eatingwell.com/free_downloads/20_minute_dinner_recipes_cookbook/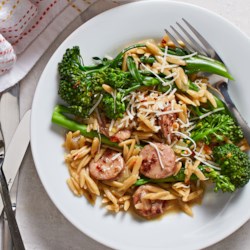 Broccolini, Chicken Sausage & Orzo Skillet
Prep 20 m  Ready In 30 m
Recipe By: Diabetic Living
Ingredients:
2 teaspoons olive oil
6 ounces chicken sausage
½ cup chopped onion
1 cup whole-wheat orzo
3 cloves garlic, minced
2½ cups low-sodium chicken broth
¼ teaspoon crushed red pepper, plus more for garnish
¼ teaspoon kosher salt
1 pound broccolini, trimmed, or 4 cups broccoli florets
¼ cup grated Parmesan cheese, plus more for garnish
2 teaspoons lemon zest
Directions
Heat oil in a 12-inch cast-iron or other large heavy skillet over medium-high heat. Add sausage and onion; cook, stirring occasionally, until the sausage is browned, 3 to 4 minutes. Add orzo and garlic; cook, stirring, for 1 minute more.
Stir in broth, crushed red pepper, and salt. Bring to a boil. Stir in broccolini (or broccoli). Reduce heat, cover and simmer until the orzo is tender, 8 to 10 minutes. Uncover and continue cooking until the broth is absorbed.
Stir in Parmesan and lemon zest. To serve, top with additional Parmesan and crushed red pepper, if desired.