Meet Dr. Robert Romanelli
Robert Romanelli, DC, DACBSP, DACBN, CFMP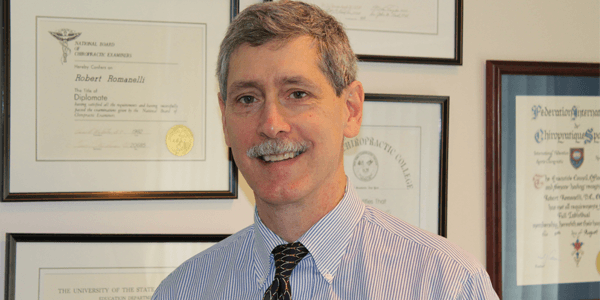 Dr. Romanelli graduated with honors from York Chiropractic College in 1983. He was awarded a Graduate Fellowship in Spinal Anatomy. Following the fellowship, he was asked to teach laboratory neuroscience and laboratory pathology.

He continued his education by completing coursework and was awarded a Diplomate of the American Chiropractic Board of Sports Physicians (DACBSP), Diplomat of the American Chiropractic Board of Nutrition, (DACBN), and Certified Functional Medical Practitioner, (CFMP).

His professional experience includes representing the United States in a rehabilitation symposium in the Soviet Union. The following year he was deputy chief of that mission. During his time in the Soviet Union, he was instrumental in developing a joint venture between the United States and the Soviet Union, Russian-American Chiropractic Sports Center at City Hospital #15 in Moscow. He was a member of the sports medicine staff member at the Atlanta Sports Chiropractic Clinic of the 1996 Olympics, (American Chiropractic Association Sports Council). He also was a staff member at the Lagrange International Training Center 1996 Olympics, LeGrange Georgia (FICS.) Dr. Romanelli was part of the medical staff at the World Toughest Rodeo at Madison Sq., Garden, The medical staff of the Olympic Track and Field Trials 1992, the All-African Games Cairo, Egypt 1991, and the Fitness America Pageant, Redondo Beach 1995.

Dr. Romanelli and 2 colleagues published an article in the Journal of Sports Chiropractic and Rehabilitation in 1997. (Age-related changes in skeletal muscle strength and modifications through exercise).

He is a full member of the Federation of International De Chiropractic Sportives, (FICS). He received the International Sports Chiropractic Service Award from FICS for his contribution to All African Games and Caro, Egypt.