Neck Pain and Chiropractic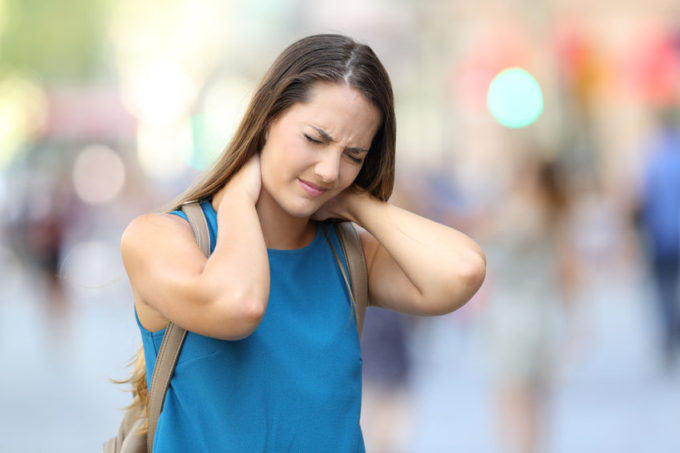 Our neck, also called the cervical spine, begins at the base of the skull and contains 7 small vertebrae. Incredibly, the cervical spine supports the weight of your head which on the average is about 12 pounds. While the cervical spine can move your head in nearly every direction, this flexibility makes the neck very susceptible to pain and injury.
Activities and events that affect cervical biomechanics includes; extended sitting, repetitive movements, accidents, falls, blows to the body or head, normal aging and everyday wear and tear.
The chiropractic consultation is important to hear your story. Do you have a history of neck pain, when did this episode start, past treatment, what have you done to treat your neck pain, does the pain radiates to other parts of your body, and what activities are now more difficult with your neck pain.
The chiropractic exam includes orthopedic and neurological testing as well as your overall posture and physical condition. Chiropractic practice is a hands-on approach and as part of the examination touching the spine and associated muscles is extremely important and often overlooked by other practitioners.
In some instances based on your history and cause of your neck pain x-rays, CAT scans or an MRI might be necessary. Laboratory testing of blood in urine also may be necessary. Fortunately these tests are covered by insurance companies.
All of this information is carefully considered when developing a treatment plan. A treatment plan is a clearly laid out path for getting you out of pain and restoring your health and restoring your neck biomechanics. This will hopefully prevent further occurrences. The treatment plan is explained completely before the start of care. Periodically there will be reevaluation's both objectively (repeating parts of the in office examination) and subjectively- your evaluation of your improvement. As part of the treatment plan there will be home care which will be explained and you will be given written instructions to take home. The home care involves a progressive stretching program, application of heat or ice, and information on improving lifestyle. Everything should be considered to get you better as soon as possible. You are more than just a pain in the neck- pun intended.
Chiropractic Manipulation is sometimes called adjustments. This is a specific precise procedure applied to the joints of the neck by hand. The manipulation improves the mobility of the spine and restores normal range of motion. The manipulation also decreases muscle tension in the area. Patients typically notice an improved ability to turn and tilt the head with a reduction of pain and stiffness.
What the Research Shows
There is increasing interest in manipulation in the scientific literature. As part of this literature published as far back as March/April 2007 in the Journal of Manipulative and Physiological Therapeutics, the researchers reviewed 9 previous published trials and found "high quality evidence" that patients with chronic neck pain show significant pain level improvements with spinal manipulation. All test group showed positive changes up to 12 weeks after treatment.
If you have any questions please contact me at my office either by phone 516- 922- 1699 or by email robertromanellidc@hotmail.com.
I accept most insurance plans.