Supercharge the good bacteria in your stomach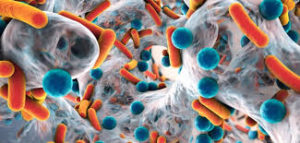 One of the 1st things that breaks down in getting a leaky gut is a change in the bacteria of the gut.
So what do these bacteria do?
They do a lot, you can't live without them.
·        They protect the body from foreign invaders such as bad bacteria (C-Dif), parasites, yeast (Candida) and various fungus.
·        They help to maintain the gut lining.
·        They produce B vitamins and vitamin K.
·        They also produce numerous short-chain fatty acids that heal the gut and some act as beneficial hormones.
·        They are anti-inflammatory.
·        They synthesize all essential and nonessential amino acids. (Proteins).
·        They convert bile.
·        They metabolize non-digestible carbohydrates and starches.
·        They convert unabsorbed sugars and alcohol.
·        We now know that they "talk to "our genes so that the genes can better adapt to our environment and diet.
·        They activate B vitamins so they can be used by our body.
·        They help to detoxify chemicals and prevent them from entering our circulatory system.
As more research of these little bugs continues undoubtedly this list will be longer.
How you can supercharge your good bacteria
·        Avoid unnecessary antibiotics.
·        Avoid antacids and anti-inflammatory's.
·        Eat whole foods. Fruits and vegetables whole grains nuts seeds. Some of these you may not be able to tolerate if you have an overgrowth of bacteria in your small intestines called SIBO.
·        For 10 days try to eliminate gluten and dairy from your diet. After the 10 days try to slowly add a gluten or dairy food back in your diet. 1 food per day. Record any reactions that you may have.
·        Prebiotics are important for the health of the good bacteria. Foods that have soluble fibers such as onions, garlic, sweet potatoes, dandelions and other fibrous greens.
·        Take a high quality probiotic daily.
The information provided on this article is for informational purposes only and is not intended as a substitute for advice from your physician or other health care professional. You should not use the information in this article for diagnosis or treatment of any health problem or for prescription of any medication or other treatment. You should consult with a healthcare professional before starting any diet, exercise or supplementation program, before taking any medication, or if you have or suspect you might have a health problem.
The products and the claims made about specific products on or through this site have not been evaluated by the United States Food and Drug Administration and are not approved to diagnose, treat, cure or prevent disease.